Easter is here and that means eating lots of chocolate, Easter egg hunts and putting on those bunny ears! What better way to celebrate Easter than to involve your children in a spot of DIY? Below is a list of easy Easter crafts to make with your children that will keep them entertained this holiday.
1) Easter Egg Tree
Now, we've all heard of the Christmas tree but what about an Easter egg tree? This very easy and affordable craft project only requires a piece of foam in the shape of a cone, plastic eggs (that you can also decorate with your little ones) and decorations such as glitter and paper grass. All of these can be found in any craft store and with a little glue, you've got yourself an Easter egg tree!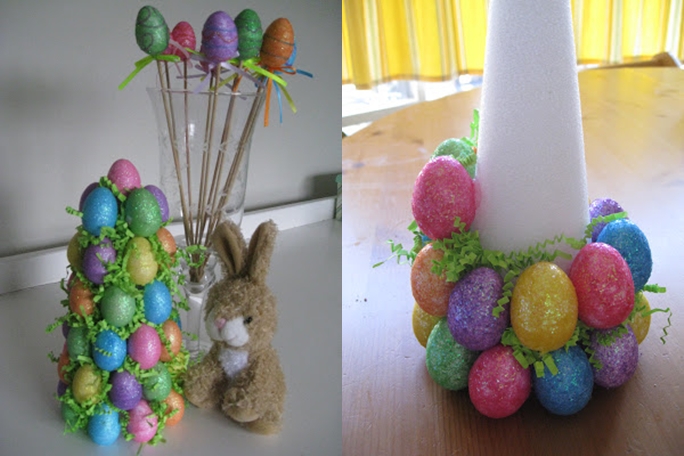 2) Cute Bunny Mask
Easter isn't complete without a bunny making an appearance! You can turn your little ones into cute bunnies by making a simple mask out craft paper and cotton buds (or pompoms). Just trace out the shape of a bunny face and then glue on some cotton to make them fluffy. We recommend adding a cotton tail to complete the look. This will be the perfect accompaniment to an Easter egg hunt.
3) Bunny Photo Frames
If you want to make an adorable keepsake of this year's Easter festivities, then make a bunny photo frame! Cut out a picture of your children's heads and then glue them to a piece of paper cut out in the shape of a bunny. Then add cotton buds or any other type of decoration to jazz it up.
4) Felt Easter Chicks
These felt Easter chicks are extremely easy to make and very cute as well. You'll need some card to create the templates, and a good amount of yellow and orange felt, as well as googly yes and orange pipe cleaners. The shapes are simple enough for young children to cut out on their own and just attach everything together with some glue.
5) Fancy Easter Hat
This can be made with glittery (or non-glittery) hats already found in craft stores and supermarkets. All you need to do is decorate it with various Easter-themed elements, such as Easter eggs and chicks. You can also decorate it with bunny ears made out of pipe cleaners or craft paper as well.